After the Dark: Monaco
Season
55
People
18
Situation
Deadly virus
Monaco Group
Settler Group
Golden Horde Group
Series Chronology
Previous Season
The Ruins
Next Season
A Postmortem November
After the Dark: Monaco
is the fifty-fifth season of
After the Dark
.
Playlist, YouTube Playlist, Spotify
Survivors
Edit
Monaco Group
Edit
Person
Age
Profession
Trait
Status

Nicolai
29
Hairdresser
Russian
Was related to the Liechtensteiner royal family.
Survived

Purry
38
Drummer
Scottish
Used to be in a famous band. Knows how to play most instruments.
Survived

Dakota
37
Zookeeper
Swedish
Has a pet seagull.
Survived

Wesley
45
Explosives Expert
Cypriot
Has hiked six of the European long-distance paths.
Member of the New Council.
Survived

Jone
24
Fisherman
Spanish
Two months into taking estrogen pills.
Member of the New Council.
Survived

Raul
63
Gravedigger
President of Monaco.
Mexican
Has won two Olympic bronze medals in running.
Member of the New Council.
Survived

Ali
26
Soldier
French
Is a professional darts player.
Deceased
Day 10
Shot by Liechtensteiner guard

Elro
57
Knife Salesman
Bengali
Knows a lot about steel and alloys.
Deceased
Day 10
Shot by Golden Horde soldier

Emmett Jackson
33
Sound Engineer
Canadian
Knows taekwondo and karate.
Deceased
Day 6
Drowned

Nicole
16
Scout
South Korean
Knows every part of Nice and Menton.
Deceased
Day 6
Crushed by collapsing building

Tigran Harutyunyan
40
Whiskey Brewer
Armenian
Knows a lot about chemistry.
Deceased
Day 6
Crushed by collapsing building
CIVILIANS

Person
Age
Profession
Trait
Status

Rhine
22
Animal caretaker
French
Survived

Doug
58
Baker
President of Monaco
French
Former member of the New Council.
Unknown

"Trick"
25
Soldier
Monegasque
Member of the New Council.
Unknown

Dan
37
Doctor
British
Unknown

Bethy
67
Merchant
French
Deceased
Day 14
Shot by Golden Horde soldier

Anaïs
28
Fisherman
Algerian
Former member of the New Council.
Deceased
Day 13
Shot by Derek

Bjarne
55
Shipbuilder
Danish
Deceased
Day 10
Beheaded by the Golden Horde

Joakim
42
Engineer
Norwegian
Former member of the New Council.
Deceased
Day 7
Skull bashed in by fatberg
Person
Age
Profession
Trait
Status
NICOLAI'S FAMILY

Matilda
28
Anthropologist
Russian
Nicolai's wife.
Survived
PURRY'S FAMILY

Axle
40
Nurse
Scottish
Purry's husband.
Member of the New Council.
Survived
DAKOTA'S FAMILY

Marie
35
Choreographer
Swedish
Dakota's girlfriend.
Survived
WESLEY'S FAMILY

Eugenia
39
Teacher
Cypriot
Wesley's fiancé.
Survived

Phoebe
12
Child
Cypriot
Wesley's daughter.
Survived
RAUL'S FAMILY

Sylvia
67
Author
Mexican
Raul's wife.
Survived
DECEASED

Kelsy
1
Seagull
Monegasque
Dakota's pet.
Deceased
Day 14
Strangled by Golden Horde soldier

Karoline
10
Child
Norwegian
Nicolai's adoptive daughter.
Deceased
Day 14
Shot by Golden Horde soldier

Matti
9
Child
French
Nicolai's adoptive son.
Deceased
Day 14
Shot by Golden Horde soldier

Roger
46
Helicopter pilot
Spanish
Jone's uncle.
Deceased
Day 14
Killed by Golden Horde soldiers

Collazo
46
Train mechanic
Spanish
Jone's father.
Deceased
Day 14
Killed by Golden Horde soldiers

Mithun
59
Leathercrafter
Bengali
Elro's husband.
Deceased
Day 10
Shot by Golden Horde soldier

Rita
41
Banker
Swedish
Dakota's sister.
Deceased
Day 10
Stabbed by Liechtensteiner guard

Leylah
36
Flight attendant
Morrocan
Luke's ex-girlfriend.
Deceased
Day 10
Overdosed on pills

Aram
14
Child
Armenia
Tigran's nephew.
Deceased
Day 7
Killed by the Virus

Ralf
39
Photographer
Finnish
Basty's husband.
Deceased
Day 6
Crushed by collapsing building

Arthur
79
Locksmith
Finnish
Basty's grandfather.
Deceased
Day 6
Crushed by collapsing building

Yun
38
Gardener
South Korean
Nicole's mother.
Deceased
Day 6
Crushed by collapsing building

Mel
22
Merchant
Monegasque
Miguel's girlfriend.
Deceased
Day 5
Burned alive

Gervais
17
Scout
French
Nicole's boyfriend.
Deceased
Day 5
Killed by the Virus
Settler Group
Edit
Person
Age
Profession
Trait
Status

Luke
41
Imam
Japanese
Knows all four members of the New Council very well.
Survived

Nathaniel
35
Glazier
Singaporean
Has been to almost every island in the Mediterranean.
Deceased
Day 12
Shot by bandit

Magnus Lundström
42
Translator
Swedish
Speaks Arabic, Portugese, Czech and Russian.
Deceased
Day 12
Shot by bandit

Aurora
39
Hunter
Italian
Once worked as caretaker of a Belorussian national park for 2 years.
Deceased
Day 8
Killed by the Virus

Najim
58
Auctioneer
Indian
Can easily identify valuable metals and gems.
Deceased
Day 6
Drowned
CIVILIANS

Person
Age
Profession
Trait
Status

Sa'ida
29
Animal caretaker
Libyan
Lived in Misratah, Libya.
Deceased
Day 14
Killed by wolves

Gamil
42
Doctor
Libyan
Lived in Misratah, Libya.
Deceased
Day 12
Shot by bandit

Rahman
32
Leader of Misratah
Libyan
Lived in Misratah, Libya.
Deceased
Day 10
Killed by caracal
Person
Age
Profession
Trait
Status
DECEASED

Judit
46
Marketing manager
Swedish
Magnus' sister.
Deceased
Day 10
Killed by caracal

Diama
35
Hotel clerk
Singaporean
Nathaniel's boyfriend.
Deceased
Day 10
Killed by caracal

Eliott
40
Livestock farmer
Swedish
Magnus' brother.
Deceased
Day 9
Died of blood loss

Yiuna
30
Tourist Guide
Singaporean
Nathaniel's sister.
Deceased
Day 5
Shot by Magnus

Russ
35
Radio host
Italian
Aurora's boyfriend.
Deceased
Day 4
Shot by crazy man
Golden Horde Group
Edit
Person
Age
Profession
Trait
Status

Miguel
22
Merchant
Venezuelan
Owns a booth at the Monaco Marketplace.
Deceased
Day 7
Beaten to death by Horde slaves

Basty
41
Lumberjack
Finnish
Is skilled with throwing weapons, especially axes.
Deceased
Day 7
Strangled by a Horde slave
Person
Age
Profession
Trait
Status

Derek
35
Horde leader
German
Deceased
Day 14
Shot by Dakota

Burt
46
Horde soldier
German
Deceased
Day 14
Shot by Jone
Person
Age
Profession
Trait
Status
DECEASED

Alvin
36
Bartender
Venezuelan
Miguel's uncle.
Deceased
Day 1
Shot by the Golden Horde
Other NPCS
Edit
Person
Age
Profession
Trait
Status

Alois
62
Prince of Liechtenstein
Liechtensteiner
Lived in Vaduz, Liechtenstein.
Deceased
Day 11
Shot by Monegasque guard
Logistics
Edit
The following is a map of Monaco, with notable locations pointed out.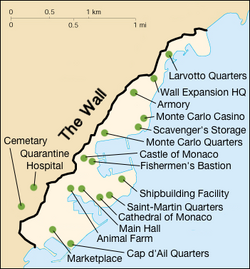 The following is a map of Europe, showing locations of rumoured settlements, and settlements whose current condition is unknown.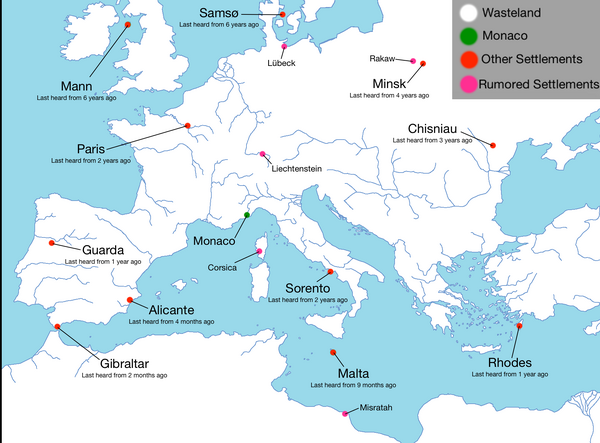 Inventory
Edit
Identities
Edit
Ali is Shea.
Jone is Joan.
Emmett Jackson is Andrew.
Elro is Mahdid.
Aurora is Fitz.
Magnus Lundström is Sean.
Raul is Gavin.
Tigran Harutyunyan is George
Monaco has ended up with a lot of problems: there is no food as the fishing boats no longer work, there is no water due to a recent drought, the virus is still around and a large group of people has recently been spotted. With only four days worth of food left, Oldham Godfrey, the president of Monaco, shot himself in the head. Doug Riénne took over immediately and established a small group of people to lead the town: himself, Joakim, Anaïs and Trick. They gathered some of the most influential people in Monaco to discuss what would happen with Monaco. In the end, the crowd decided to split into 3.
The Monaco Group consisted of the people that decided to stay in Monaco, which was by far the majority of Monaco's citizens. After their four major problems were presented, solutions were made for two of them. Jone went to figure out how to find sailboats, as there were none in Monaco. She met Bjarne, a shipbuilder, who suggested looking at nearby docks. Anaïs agreed to take Jone and Bjarne with her to find these boats. Elro, meanwhile, went to find ways to find the missing parts to turn the existing boats solar-powered. Dakota and Raul meanwhile focused on protection of the city, backed by Trick who ended up in an argument with Doug. Nicolai talked to Joakim for a while, to find out what they needed to look for while scavenging. He then found his girlfriend, Matilda, and practiced shooting with her. Wesley also went outside, to find his girlfriend taking care of a group of orphans, as well as their own kid, Phoebe. Wesley announced his plans of leaving Monaco to find supplies, and told Eugenia to stay and look after Phoebe. Trick was willing to join Wesley, and the two met up with Nicolai and Matilda. Purry and her husband, Axle, began working on a medical facility. Axle initially had a small setup, but Purry helped out by expanding it. Purry also briefly talked to their neighbour, Bethy. Ali offered Trick to aid in protecting Monaco.
The Settler Group consisted of Nathaniel, Najim, Luke, Aurora, Magnus, Diama, Yiuna, Russ, Eliott and Judit. They took three cars and drove off, taking the backroads towards Italy. Their first stop would be Prasco in Northern Italy. Before they left, Luke broke up with Leylah, his girlfriend.
The Golden Horde Group consisted of Miguel, Basty and Alvin. Miguel didn't want Mel, his girlfriend, to join, while Basty's family was never asked. The three of them left to find the group of people that Trick had mentioned. They found it, meeting Derek, who announced them as The Golden Horde. Derek also briefly explained that they choose a new leader every six months, and that they travel around pillaging and enslaving in order to stay alive. At their temporary camp, Miguel and Basty noticed a lot of people that were either heavily armed or enslaved in heavy steel collars. Miguel explained that the three of them would join them and give information, in exchange for protection, food and shelter. With Miguel's experience as a haggling merchant, he managed to convince Derek that it was a good idea, but Derek wanted more in exchange. He requested a slave, hinting to Alvin. Miguel agreed to this, but Alvin did not. Alvin ran away, but was shot in the back by a member of the Golden Horde. Alvin did not die right away, but Derek ordered his men to leave him on the ground to bleed to death. Derek still wanted a slave, and Miguel gave them Basty on the condition that they would free him if Miguel and Basty could indeed help them. Derek agreed to this. Basty was tied up and thrown into a small tent with a group of other slaves, while Miguel was put in his own tent, though a guard was keeping an eye on him.
Nicolai, Wes, Ali, Trick and Matilda of The Monaco Group left to scavenge. They headed towards Turin, but before that stopped at a small village. They found a few supplies, but the houses had already been looted. They continued on, arriving at a small town outside Turin, where they met Carl. Carl was living alone with his wife, after the Golden Horde had enslaved his daughters and stolen his supplies. Carl offered the group some livestock to help them, before revealing that his wife was sick with the virus. The group immediately left after learning of this, not wanting to get infected. Elro and Purry tried to figure out how to get water. Purry's husband, Axle, had discovered that a water cleaning facility nearby outside the walls had the pumps and tubes they needed. Elro meanwhile found out where he could find the items needed for a way to clean the water. He walked off to a nursery, where he found some large cacti, bringing it back to Monaco. Purry also spent time talking to Mel and Eugenia. Jone, Collazo, Roger, Bjarne and Anaïs left for L'Île Rousse on Corsica, in search of sailboats. On the way, Anaïs and Jone fished, getting a nice haul. Their boat ran out of fuel a few hundred meters from shore, so they decided to spend the night on the boat, allowing the tides to bring them to shore. Throughout the day, 1 civilian of Monaco died and 2 got infected.

Dakota left, headed to Liechtenstein on his own. He made a brief stop at a village by Lake Léman, but found all the houses looted. He looked through a sunken boat, which turned out to have a functioning engine. He decided to leave, drove towards Liechtenstein and set up camp when it got dark.
Andrew drove off, headed towards Sorento. He drove during the night.

The Settler Group arrive in Prasco, where Luke, Najim and Russ start looking through a large building. Luke and Russ found food in the kitchen, while Luke also looked through a basement. Something smelled very bad in the basement, but Luke ignored that and found a lot of fruit wine. Najim meanwhile headed upstairs, where he found two corpses in one of the bedrooms. He ran out of the house, to avoid getting infected. Magnus discussed the possibility of Russ being infected, talking about this with his siblings, Eliott and Judit. Nathaniel and Diama looked through an old shed, then left for the village. Here, they entered a church, where they were met by a huge group of corpses - likely the place where the infected people of Prasco were put. Diama suggested looting the corpses, but Nathaniel didn't want to risk it and they left. They then looked through a grocery store, where they found some food and water. Nathaniel and Diama entered the storage room, finding the floor covered in old soda. A lot of ants were crawling around, which made Nathaniel and Diama leave that room as well. They then all regrouped, after Luke and Najim looked through an already-looted building. They headed off for Sorento.
In The Golden Horde Group, Derek wanted the two new members of the Golden Horde to prove their loyalty. To do that, they had to go with Burt, Derek's right-hand man and the former leader of the Golden Horde, to enslave or kill a small family they had spotted in Nice. Two other soldiers joined, as Basty agreed to do this. They headed to the building, where Basty took charge. He charged the apartment where the family lived. Inside was two small kids, and their mother. As the five members of the Golden Horde entered, the mother screamed and the father appeared with a gun. Basty told Burt to shoot the father, which he then did. The two soldiers grabbed the kids, as Basty attacked the mother. The mother knocked Basty to the ground, but Basty used his skills with throwing weapons to throw his knife into her stomach. She fell to her knees and started pleading for her life. Basty took out the knife from her stomach and stabbed her. With her dead, they looted the apartment for supplies and returned to camp. Derek was very happy with this, and allowed the two newcomers to roam around the camp as they wanted, although he assured that they would still be carefully watched. Basty did not get his steel collar taken off, however.
The Monaco Group saw Purry, Tigran, Nicole, Axle, Mel and Gervais head to the water cleaning facility to get the materials they needed to get running water. They arrived to find that the lobby of the building was full of corpses, likely from people that had died from the infection. Next to the large facility's building was a series of deep, but empty, water tanks. Across these tanks were a catwalk. Tigran walked the catwalk across these tanks, making his way to a gap in the catwalk. He jumped the gap, and made it, though the catwalk broke behind him. This forces the rest of the group to enter through the lobby, where they stayed a safe distance from the corpses inside, in order to avoid infection. The six of them collected the items they needed, and went out through the lobby. Gervais went ahead with a broom to clear the way for corpses, though he did ended up touching one. They all returned to Monaco, but Gervais was told to stay outside. Joakim began work on the water supply right away, while Purry and Axle returned home. Wesley and Nicolai talked to the caretaker of the animals, trying to figure out how to get more food. The caretaker, not experienced with animals, preferred birds as they were easy to care for. Eugenia revealed to Wesley that one of the orphan kids' father was infected and at the hospital, and that the kid had disappeared. Wesley comforted her, then went with Phoebe to the marketplace with Eugenia went off somewhere else. Wesley bought an engagement ring from Bethy, and took some magazines from Mel's booth. Him and Phoebe returned home, where Eugenia revealed that she had talked to the quarantine doctor. The doctor had informed her that the kid had been infected, and later that the kid died the same day. Jone, Anaïs, Bjarne, Roger and Collazo had landed on Corsica, next to a large beach full of corpses. They took extra measures to avoid infection, and go to the two sail boats. They returned them to Monaco, with Bjarne teaching Jone and Anaïs how to sail. Shea helped out around town. Raul managed to make contact to Liechtenstein, however they people of Liechtenstein were not interested in talking. Elro and Nicolai took Trick, Matilda and Mithun out to scavenge in the bus. They went to Nice, where they were getting shot at after having followed a pile of smoke. The smoke turned out to come from the campfire of the Golden Horde. When returning to their bus, they spotted Basty, who was shooting at them. They shot back, hitting him in the shoulder and bringing him back to Monaco, where Doug locked him up. Throughout the day, 4 civilians of Monaco died and 2 got infected. Two of the deceased were the orphan that Eugenia was looking after, and that kid's father.

Dakota made his way towards Liechtenstein. A few kilometers away, he spotted something on the road, and went out to check. He found a lot of metal spikes, which he cleared away, allowing his car to continue. He then passed a trap wire, which raised a black flag. Immidiatley after that, he heard yelling from Liechtenstein nearby. He went over to surrender, and was asked if he had been injected. Dakota told them that he had not been injected with anything, and was then shot with a tranqualizer dart. He woke up inside a prison cell, having been injected something. He called out, and was met by a man that informed him that he was not allowed to leave. He revealed that they were working on a cure, and that it was what they had injected into Dakota's arm. The man said that the cure was not yet fully ready, and that it was very fragile, why they did not allow people to enter or leave, hence the traps and blockades. The man revealed himself as Prince Alois of Liechtenstein. Dakota mentioned that he knew one of Alois' relatives: Nicolai. Alois did indeed know Nicolai, and said that Dakota could possibly help him when they at some point wanted to contact Monaco. Alois confirmed that he would not keep Dakota locked up, but would release him the following day, assuming that the cure had not killed him.
Andrew, having been driving through the night, missed an exit in the darkness and ended up far from his destination. He turned around, looted a single hotel on his way, and made his way to Sorento. Finding the abandoned community there, he changed direction to Sicily, where he met up with the Settler Group.

The Settler Group arrived at the abandoned settlement in Sorento. Inside was a lot of working facilities, but also corpses scattered around the settlement. Nathaniel, Najim, Luke, Aurora and Magnus all agreed to not risk anything and left. As they left Sorento, they heard gunfire but drove away. They then made it to Sicily, where they met up with Andrew after a little while. Here, they tried to fix the broken bridge to Sicily. They succeeded, getting two of their four cars across before their makeshift bridge collapsed. They forgot to bring Aurora across though, and had to make a new bridge, wasting a lot of time. They eventually all got across, though only with two of the cars. They spent the night in their cars.
The Golden Horde Group had Derek give Basty another assignment: return the corpses of the people he killed yesterday, so they could be used for meat. Basty agreed, but was not allowed to carry a gun as long as he was a slave. To get rid of his collar, Derek announced a Fight for Freedom - two slaves fighting. If Basty won within two minutes, he would get his collar taken off. If not, he would get killed. The winner was whoever managed to kill the other. Derek brought out a girl, who started by charging Basty, trying to get him towards the fire. Basty used the same strategy. The girl grabbed a piece of coal from the fire, badly burning her hand, and only just grazing Basty's ear. Basty used the girl's current lack of a working hand to knock her off him and get back on his feet. This also allowed him to push the girl into the fire, giving him the victory and freedom. He then joined Burt as they went to get the corpses. They got them back, after following the scavengers from the Monaco Group. Basty then shot at the scavengers' bus' tires, which gave up his position, allowing them to capture him.
The Monaco Group had Purry, Ali and Axle return to the water cleaning facility, where Joakim had sent them to turn on a valve. Joakim had already set up the water pump, but needed water pressure. Ali went out on the same catwalk that Tigran had walked on yesterday, and made her way to the roof of the building. She dropped down into the room with the valve, turned on the valve and swiftly left through a window. An alternate route had been going through the lobby, although it was full of corpses of people that had died from the virus, why she chose the other way. Eugenia was upset, because she did not want to tell the kids that their friend had died from the virus. Wesley went to tell them instead, then returned to Eugenia and expressed his concerns about the safety of Monaco. He also talked to Anaïs about creating escape routes. Jone spent the day looking for the source of the infection that had gotten several people infected over the past few days. She narrowed it down to the marketplace, but did not progress from there as she was interrupted by a bomb going off at the cemetery. Wesley and Jone also had talks about leaving Monaco on one of the sailboats. Nicolai went to Doug, discussing what to do with Basty. Doug and Trick were going at it, with Trick wanting to outright kill Basty, while Doug wanted a more diplomatic approach. When Nicolai agreed more with Doug, Trick stormed off and started yelling at a random guy outside. Elro came up to calm her down, but without success. As the bomb went off at the cemetery, they all ran to the western gate to see what had happened, now joined by Tigran and Raul. A bomb had gone off by the cemetery, though nobody got hurt. As Raul returned to the castle, where they were keeping Basty locked up, he found the guard dead and Basty gone. When Trick hears of this, she gets very upset and storms off to find Doug. She yells at him and demands him to step down as leader. She is prepared to shoot him, but is calmed down a bit by Elro, Nicolai and Raul. Purry is also there, but she just watches. Trick eventually listens to Elro, Nicolai and Raul, calming down. Doug agrees to step down, and takes to Raul's advice of electing a new leader, chosen by the core group that he had gathered just a few days earlier. While all of this was happening, Joakim had now ensured that Monaco had running water, after Ali turned the valve at the water cleaning facility center. Gervais got infected and was sent to the quarantine hospital. During the day 1 infected person of Monaco died, while 5 more got infected.

Alois set Dakota free, on the condition that Dakota would not leave Liechtenstein or attempt to contact anyone outside - Alois did not want to risk contaminating the fragile cure. Alois gave Dakota a tour of the tiny nation of around 400 people. The walls going into Liechtenstein were walled and guarded while areas like forests and mountains were open, allowing people to enter and go unnoticed. Dakota looked around, and had a short talk to a woodworker. The woodworker made it clear that everyone in Liechtenstein were on the same page regarding the secrecy of Liechtenstein and the cure. Dakota then went to the scout's headquarters, where he found an armory and a radio, though the scouts would not let him use either. His gun was locked up in the armory, and a notebook was laying with the scouts, the notebook likely containing notes on how to contact other settlements. He left to find Alois' house and sat down for a chat with him. Alois would not let him either leave or contact Monaco, but agreed to help out Monaco by making an airdrop the following day, provided Dakota would come along.

The Settler Group continued their travels, going to Catania in search of a boat. As they arrive, after eating and drinking, they are shot at by a crazy guy with a rifle. He hits the tire of their first car, which crashes into a bakery. The passengers were unharmed and make it inside the bakery. The passengers of the other car head into the bakery as well, though Nathaniel's sister Yiuna is hit in the leg by a gunshot. The crazy guy laughs and then disappears as they enter the bakery shop. Luke tries to bandage Yiuna's leg with some towels, though doesn't succeed very much. As they expect the crazy guy to come for them, they fall back to the bakery's kitchen, where they at first hide behind a cooking island. The island is too small for them all to hide behind though, and they then decide to all hide in the walk-in freezer. Inside it is a corpse though, but they all stay hidden there. Russ and Andrew are at the front of the freezer, Andrew ready with his gun. As the crazy guy enter the kitchen and giggle, Russ laughs, revealing their position. The crazy guy shoots Russ, while Andrew manages to shoot the crazy guy. Russ was shot in the neck and eventually drowns in his own blood. Meanwhile, Luke continues to care for Yiuna, as they get back outside, after Magnus loot the crazy guy's corpse. They then head to Catania's port, where they find a sailboat. Diama has a little bit of experience with sailboats, and they all decide to immediately head off towards Malta, trusting Diama's skills. As they were all in the small freezer with the corpse, there is also a good chance that some of them got infected, if the corpse did indeed die from the virus.
Derek of The Golden Horde Group ordered Miguel to return to Monaco and either rescue or kill Basty - either one would be fine. Derek then set off to pillage a nearby settlement. Miguel headed to Nice, following Basty's blood trail. This didn't helped him though, so he headed towards Monaco. He spotted two guards playing cards on top of the wall. They did not notice him, distracted with their games. This allowed him to find a nearby manhole and check out the sewer. It was nearly completely flooded though, so he instead decided to return to the Golden Horde's camp and get some explosives. He set off a few explosives at the cemetery outside the wall. This is just a distraction though, and it works perfectly. Almost everyone in Monaco run to the western gate to see what happened, allowing Miguel to slip through the center gate, where the stationed guards had also run to the western gate. He pretended to be part of the people running towards the commotion, until he could slip away and take the backroads to the castle. At the castle, he saw a single guard guarding the door to the basement. He walked in and attempted to seduce the guard, though this backfired and the guard aimed his pistol at him and moved towards the front door to yell for help. As soon as the guard turned his head to call for help outside, Miguel shot him, then shot the lock of the basement door and freed Basty. The two hurried out, the injured Basty helped by Miguel. They successfully returned to the Golden Horde's camp, where they brought a slave into their tent for the night.
Black clouds started appearing everywhere and wind picked up, indicating the end of the drought.
Part of this group's actions during this cycle remain hidden for now.
The Monaco Group had an airdrop from a helicopter. The airdrop contained food, water and weapons. Roger, a helicopter pilot, guessed that the helicopter was one used for tours around mountains, like the Alps. They all go inside the castle, where Doug has gathered them all and their families, along with Joakim, Anaïs, Trick and Rhine. They all voted, and voted for Raul as the next president of Monaco. They also voted Trick, Axle, Jone and Wes into the New Council. Elro, Nicolai and Purry also voted, though not for themselves. Nicolai, Purry and Axle went to the marketplace to find out where the infection was spreading from. They ask Mel and Bethy, who were the only two people still at the marketplace. Nicole, Purry and Axle eventually found a hut with a corpse inside. Jone joined them at the marketplace as well, and they all argued what to do with the corpse. They ended up going back to the castle, where the new president, Raul, had the final say and decided to burn the marketplace. Trick went over there and did that, though since nobody warned Mel, Mel did not wake up from her nap in her hut, and she was burned alive. Wesley proposed to Eugenia, who said yes. Ali trained some soldiers. Jone, Wesley and Anaïs discussed plans for reaching out to people outside Monaco. Jone went to the casino, where she met a very drunk Leylah. Leylah passed out, and Jone cared for her. Purry proposed the idea of kids to Axle, who agreed to it. The two got going on that. Raul comforted Rhine. Nicolai went to Eugenia to ask about adoption, and then went home to Matilda to ask how she felt about it. Matilda thought adopting one of them was a great idea. Joakim and Wesley went outside the wall and set up tripwires connected to explosives. Wesley sent messagers out to let any small settlements they knew of know about the tripwire. Throughout the day, 4 infected people died, not counting Gervais who also passed away. 1 non-infected person within the walls of Monaco also died. Aram, Tigran's nephew, got infected. Kelsy disappeared.

Dakota and Alois made the airdrop over Monaco, bringing food, water and weapons. Kelsy recognized Dakota as they flew over, and joined Dakota and Alois in the helicopter. Alois thought this was weird, but let it pass. As they return to Liechtenstein, a scout runs over to them, informing them that a scout outpost nearby had collapsed and trapped people under the rubble. Alois offered Dakota to prove that they could trust him, and sent him off to help the scout get the people under the rubble free. When they got there, they quickly realized that moving the debris by hand would take a very long time, so Dakota sends the scout back for more people and shovels. Dakota stays by the collapsed building, trying to comfort the people under it. He is told that three people are trapped. As the scout returns, they start digging and eventually get one of the three trapped people's arm free. However, as Dakota tries to drag him out, a single scorpion leave the rubble, crawling on the guy's arm. Dakota, as a zookeeper, recognize the scorpion as venomous, and as he sees more leaving the rubble, he tells the workers and scout to get away. The trapped man is stung a lot of times, from the sounds of it, and Dakota has everyone return to Liechtenstein, where he informs Alois of this. Dakota then goes back to the scout's headquarters, and tries to get the scouts to give him the channel to Monaco. When Dakota claims that Alois gave him permission, the scout goes to Alois to ask. Alois tells Dakota to ask him in the future, if he has questions. Dakota asks about other settlements, and Alois tells him that Monaco still exists, of course, as well as Rakaw and Misratah. He also says that there are numerous small settlements around Europe, but that Monaco, Rakaw, Misratah and Liechtenstein are the only ones with more than 100 people living there. Dakota is happy with that answer and walks off.

In The Settler Group, the boat docked in Valletta, where they started exploring a bit. They discovered that a clock tower was still going and following the right time somehow. But they decided to not take a look at that, and went to look through grocery stores. Nathaniel, Magnus, Luke and Diama find that no stores has anything in them, picked clean. They also notice that there are no corpses anywhere. They find a new sailboat, one larger than the one they already had, and move their old supplies to the new boat. However, Yiuna, infected and injured, was still on the boat. As she saw the things being moved, she grabbed Aurora's leg, begging them to not leave her behind. Magnus shot Yiuna in the head, while Nathaniel and Luke, both having close relations to Yiuna, stayed on the other boat and prepared it for the trip. Magnus returned to the others, as they all left Aurora behind and sailed off. They headed towards Misratah, with Diama sailing again. Diama was not comfortable sailing on the open sea though, but gave it his best. Nathaniel stayed up all night with him.

Aurora was left behind in Valletta on the old sailboat. She had no food, water or weapons, and was on the boat with Yiuna's infected corpse.

In The Golden Horde Group, Miguel walked out to explore the city. He chatted to the butcher, who informed him that they used to herd cattle, but after running out, they've been forced to eat other people. She was not happy with that, disgusted about cutting up humans all day. Miguel then walked over to the slave he was with yesterday, and is told that the slave's name is Fred. He continued to talk to the doctor of the Golden Horde, who told him that what they usually do when someone gets infected, is that they tie them to a pole and burn them alive: if there is no corpse, there is no source of infection. Miguel then headed to Derek, trying to seduce him. Derek did not want to be seduced though, but took it lightly.
Rain has fallen all over, officially ending the drought. Coming along the rain was a hurricane, affecting all groups.
The Monaco Group were woken up by the hurricane, as a tree crashed into the Cap d'Ail apartment building. Nicole and Yun's apartment were the victim of this, as the tree crashed right into their living room. Ali went to attempt helping, though the tree fell down a floor, falling on top of Tigran's legs, trapping him. Ali went inside, and attempted to save Tigran, by holding on to his hands as he forced the tree to fall down another floor. The tree fell down, but Ali was not strong enough to hold onto Tigran, who fell down as well and was crushed under the tree. Ali escaped the building with Leylah and a few other residents, as the building collapsed, killing Nicole and Yun in the process, as well as Arthur, Ralf and numerous other residents. Purry, Axle and Elro went to the castle for safety. Wesley, Eugenia and Phoebe led everyone into the basement of the Larvotto apartment building, though it soon began flooding and they all escaped to the cathedral. On the way, an elderly lady was knocked out by a brick, and the group decided to leave her to die. Nicolai, Matilda, Jone, Roger, Collazo, Ali, Leylah and numerous civilians joined them at the cathedral, where they all decided to wait out the storm. Purry and Axle began to help the injured, though when they realises that they didn't have equipment to fix major injuries, Purry brought Trick and Marie with her to Menton to gather more medical supplies. They found some and brought them back. Jone went to talk to Leylah again. Leylah was, once again, very drunk and threw up all over Jone's chest, then left. Jone also went to talk to Dan, who pessimistically believed there to be no cure. Despite being around infected people for nine years, he also refused to believe that he was immune to the virus. Dan informed Jone that Aram only had one or two more days left to live. Nicolai and Matilda arrived at the castle, as a voice came through on the radio. It was Dakota, who revealed that he was in Liechtenstein. Someone forced Dakota off the radio though, and told Nicolai to not contact them again. Wesley, Nicolai and Matilda returned to the cathedral, where Eugenia and the kids still were. Wesley talked to Phoebe, and learned of her desire to create a library. Nicolai and Matilda adopted Matti and Karoline.

Liechtenstein was barely affected by the storm. Alois revealed that in order to complete the cure, they needed someone immune to the virus. Dakota asked if he could help with anything else, as he did not know of anyone immune, and Alois said that some builders were working on reinforcing the walls of the castle. Dakota went to the castle, but quickly realized that it would be way too dangerous to work on the walls during the storm. He then went to the distribution storage, to make sure Liechtenstein was well stocked. After that, he returned to the scout's headquarters, where the scouts were tired of him and let him use the radio. Dakota contacted Rakaw, where he was informed that Alois had a dark past, which the scouts revealed were when a group of Liechtensteiners were sent to Malta to distribiute the cure, but failed and instead killed almost everyone on the island. Dakota called Monaco, where he got in touch with Nicolai. Alois intervened, before Dakota could reveal anything about the cure. Alois took the radio home with him, to make sure that Dakota couldn't use it again. Dakota then tried to find a way to unlock Alois' door, but failed.

The Settler Group were woken up during the night to the boat hitting something in the middle of the hurricane. A wave knocked Diama to the ground, leaving them with nobody to control the ship. They all went downstairs to wait out the storm, until they realised that they had a breach in the boat's hull and had to abandon ship. They found a small inflatable boat, which Luke, Nathaniel, Diama and Magnus got into, while the other four wore life vests and jumped into the ocean. Magnus was pushed overboard by a wave, but made it to the boat. Everyone in the boat hung on, waiting out the storm. The other four were all knocked out by the ship, as it came crashing towards them. In the morning, the four people in the life boat were unharmed, and found Eliott and Judit to be alright as well. Eliott had an injury on his arm, but Magnus bandaged that. Nathaniel and Diama found the corpse of Najim, who they tried to revive using CPR. They were unsuccessful though. Magnus then got into the life boat and got out to sea, as he saw Emmett floating around 100 meters out. He got there, got Emmett into the boat and started performing CPR, although Emmett was still breathing. Magnus managed to crush Emmett's ribcage, but did the CPR correctly. However since Emmett was still alive, this only did more harm than good. Magnus left the boat, swimming back to shore to look through the med kit. He was too exhausted to return out to the boat though, and the boat started floating further and further away. A wave crashed over the life boat, knocking Emmett into the water. With a bushed ribcage, and barely conscious, Emmett was unable to stay above water and drowned. The others started walking inland, finding themselves in the middle of a desert. They walked in circles though, and ended up back on the shore, where they collapsed from exhaustion. They all drank some fruit wine to hydrate a bit.

Aurora, still in Valletta, found herself on the boat, about to sink. She left it and entered a random building. Inside, a girl threatened her with a gun. When Aurora explained herself, the girl allowed her to wait out the storm with her group. In the basement of the building were around twenty people. A fat man refused to let Aurora stay with them, refering to the last time they let people stay with them: the people of Liechtenstein caused the death of their entire group. Aurora was eventualy allowed to stay for the night. When she left, Sasha handed her a key to a carport, which had a fully operational solar-powered speedboat. Aurora quickly got the hang of the speedboat, which was very easy to operate. She docked the boat at the opposite side of the island, and went to explore. She found a gas station with barely any corpses, fully stocked shelves and a foldable bed in the backroom. She decided to stay there for the night.

The Golden Horde Group were victims of the hurricane too. The entire camp was in chaos, as tents were flying all over the place. The camp was surrounded by trees and old buildings, so it was a very dangerous place to be during a hurricane. Despite this, the Golden Horde did not manage to join together in a decision, and everyone just ran around in panic, as people were knocked out by falling bricks and branches. Basty was accidentially knocked to the ground and kicked in the head by a running horde member, knocking out Basty.
The Monaco Group saw Purry bring some scouts with her to Menton again, in order to gather more medical equipment for Axle's infirmary. They easily got the equipment, but when they heard screaming from a burning building nearby, Purry and one of the scouts went to check it out. The scout entered, but when he didn't come back out, Purry went in to save him. He was already dead though, and now she was trapped in a burning, collapsing building. She made it to the fire exit, which was blocked by a big statue. She tried to push it out of the way, but couldn't. The two other scouts arrived, and helped her climb over the statue. They left Menton and returned to Monaco, where Purry broke down to Axle, who comforted her. Ali went to help Rhine deliver the baby of the pregnant goat. Axle helped too. When none of them knew what to do, Ali went to the quarantine hospital to ask if Dan could do it. Dan agreed to it, and eventually managed to deliver the goat. Jone gathered her family as well as Anaïs, taking a sailboat to go explore. She also tried to convince Leylah to join, even opening up to her. Leylah just wanted to drink vodka though. Elro and Doug were at the castle, where Dakota made contact with them again. He informed them that Liechtenstein was working on a cure against the virus, and that they needed to bring Dan, who Dakota believed to be immune to the virus, to Liechtenstein. Nicolai and Joakim went to get rid of the sewage swamp, which had been sitting for quite a few days by now. They arrived at the sewage outlet, and found it blocked by a large fatberg. They started hacking away at it with pickaxes, Joakim having been exhausted the entire day. As the fatberg began to fall apart, they ran away, but the exhausted Joakim, who was already in a really bad shape, was unable to keep up with Nicolai and was hit by a big piece of fatberg. More pieces of fatberg hit him, until a big chunk hit him in the head, bashing his head against the sewage pipe, killing him. Nicolai made it out in time. During the day, 4 civilians died. Aram died from the virus.

Dakota stole a gun from the armoury before going out to look for Alois. He found him, then managed to convince him to let him call Monaco and make Dan - who Dakota believed to be immune to the virus - come to Liechtenstein. After Dakota did what he could at that, he went to his room to sleep.
Jone, Roger, Collazo and Anaïs arrived at Alicante, finding nothing but a razed settlement, likely done by the Golden Horde or a similar group. They docked for the night at Tabarca.

The Settler Group were exhausted and out of energy. Unable to move, they lay in the desert when two men on camels came to their rescue. The men brought them back to Misratah, a small community with around 80 people. Nathaniel did not understand most of what they were saying, but both Luke and Magnus spoke Arabic and could translate. They were introduced to Misratah's doctor, Gamil, and their leader, Rahman. Rahman informed them that wildlife had taken over most of Misratah, and that if they wanted to help out around the settlement, they could take care of culling their numbers. Nathaniel also offered his experience at construction as help. They all got settled in at their new home.

Aurora was in the gas station, feeling sick. She was clearly infected.

In The Golden Horde Group, Miguel and Basty's unconscious bodies were being looted by slaves. Derek and Burt did not seem to mind this. Basty made a brief attempt at fighting back, but gave in when he was overmanned and outnumbered. The slaves enjoyed beating non-slaves though, eventually causing Basty to get strangled and Miguel to get beaten to death.
In The Monaco Group, Purry held a ceremony for the deceased, then went to talk to Trick. Trick's hesitation when asked if she had family in Monaco, gave a clear hint that she did actually have family. Purry then went to comfort Leylah, who had also been comforted by Nicolai. After Purry had tried to talk to her, Leylah leaned in and kissed her. Purry brought her back to her and Axle's apartment, where Axle let her stay in the infirmary next door. Purry told Axle about the kiss, which seemed to upset Axle a little. Raul went to Doug, to try and get him to help with Monaco's food situation. Raul, Elro, Ali and Nicolai all talked to Dakota through the radio. Wesley, Ali, Nicolai, Rita, Marie and Dan left Monaco to go to Liechtenstein.

Jone, Anaïs, Roger and Collazo looted the homes of Tabarca, finding some food and a radio, but otherwise not anything of use. They then made it to Gibraltar, where they tried to make radio contact. When it was unsuccessful, they instead went inside the settlement in Gibraltar, finding that it had been wiped out by the virus. Jone looted a shed with canned goods and planted the Spanish flag in the settlement. They then continued onwards towards Portugral, stopping at the island of Berlengas. They saw smoke coming from the island, but decided to not check it out and stayed anchored off the island's shore.
Dakota tried to convince Alois to let him to Monaco instead of the people of Monaco coming to Liechtenstein. Alois refused this, not wanting to risk anything. The group from Monaco made it to Wildhaus, where they cleared the road of the spike trap. They eventually made it to Liechtenstein, where Alois recognised Nicolai. Dakota, Wes and Nicolai all tried to talk Alois out of shooting the group with the tranquilliser gun. This didn't work though, and they were all shot, put unconscious and throw into prison cells, just like Dakota was when he first arrived.

The Settler Group had Nathaniel help the builders construct a cottage outside the wall. Sean and Eliott initially wanted to go hunt, but never did. Luke went to hunt, and followed a snake to a gas station. At the station, he realises that there were a lot of snakes inside, and one ended up following him. Luke killed the snake, and was then followed by a wildcat instead. The cat seemed friendly though, so Luke fed it. The cat stayed in Misratah for a few minutes, before it was attacked by a wolf. Luke killed the wolf, but the cat had already been killed. With the wolf followed more. Before Luke and Sean could shoot them, one Misratah civilian was killed and Rahman attacked. Luke managed to save Rahman before the wolf could do any harm though. Nathaniel and the three builders were also being attacked. Nathaniel and one builder made it to Misratah alive, but the other two were killed. The wolves were then shot and killed. Rahman revealed that attacks like that was common in Misratah, as the animals were getting hungry and desperate for food. Luke, Sean, Nathaniel and Rahman made plans for how to prevent similar attacks in the future.

Aurora passed away, killed by the virus.
The Monaco Group had Elro mention the solar panels for the boats, and prepare to go get them. Raul wanted something done about their food situation, and joined Trick and four hunters on a hunting trip, where they found four boars. The boars noticed them and charged at them. One boar charged and killed one of the hunters, and Raul then proceeded to shoot that boar, telling Trick to go take care of a boar she had already hit. The other hunters were running away in panic. Raul killed the boar and waited for Trick and the hunters. After waiting for a while, he walked with the dead boar to a nearby road. Here, he saw one of the hunters killed by two of the other boars. There was no sign of Trick. After waiting for a while longer, he returned to Monaco, where he told Doug the news. Despite his previous disagreements with Trick, Doug was very worried and insisted on going looking for her right away. Even though it was getting dark, Raul agreed, and the two of them went to the forest. The looked through the forest until midnight, trying to find Trick and the two hunters.

Jone, Anaïs, Roger and Collazo continued their travels, moving to Guarda. Near Guarda, they saw smoke from a bonfire, but didn't check it out. The former settlement in Guarda had been burned to the ground, along with the surrounding heaths. So they decide to head back to Monaco, making it to Tabarca, where they once against spent the night.
In Liechtenstein, Alois told Wes, Nicolai, Ali, Rita and Marie that they were only allowed to leave their cells if they promised to not leave Liechtenstein. They tried to argue with him, but he did not budge. They all ended up agreeing, though Wes and Nicolai being forced more into it than Ali and Rita. Marie did not trust Alois and the people of Liechtenstein, and instead of lying, she insisted that she would escape if she was let out. Alois let her stay in her cell. Dakota later went to ask her why she was still locked up, and told her that he agreed that she couldn't leave. Angry with this, Marie agreed to stay locked up. There was no sign of Dan. Nicolai explored, finding the people of Liechtenstein having a lot of food. He also saw a guard guarding a backdoor in Liechtenstein's lab. He also talked to the settlement's woodworker, who agreed to make him some furniture. Ali went to take a nap, while Wes went to talk to the hotel clerk, who was in charge of all keys in Liechtenstein. Wes tried to convince the clerk to give him some car keys, but the clerk refused. Wes then tried explaining his situation and faked crying to gain the clerk's sympathy. None of it worked though. Dakota went to Alois, expressing his support of Alois' decisions.

The Settler Group had Nathaniel talk to Diama, while Luke went to look for buildings that he could demolish for materials. He eventually decided to instead take care of the snake-infested gas station, so Magnus and Eliott joined him as he threw a grenade in there. The gas station kept standing, but nearly all snakes inside were killed. A handful fled the building, and most were killed by Luke, Magnus and Eliott. Two of them made it all the way up to the trio though. One attacked Luke and another attacked Eliott. The snake that attacked Eliott bit onto his arm right away, and refused to let go. Eliott panicked, running off. Magnus helped kill the snake that was attacking Luke, before running off to help his brother. Luke's snake bit him in the arm too, before Luke managed to kill it. Luke ran to Gamil, who used the last antidote in Misratah. Before he could make more, Eliott had ran into the settlement of Misratah. Magnus attempted to get the snake off Eliott's arm, but failed. Gamil made his way over and killed the snake, then brought Eliott inside the infirmary. Since he just used the last antidote, Gamil announced that he would have to cut off Eliott's arm to prevent the poison from spreading. Gamil got started, while Magnus held down Eliott. Something didn't go as planned, Eliott's stump pouring out way more blood than intended. After cutting off the arm, a pool of blood had formed on the floor. Gamil ran off to get towels, while Magnus and Luke tried to do what they could to save Eliott. When Gamil returned, he slipped in the pool of blood and got himself knocked out. Without a doctor, there wasn't much to do, as Eliott bled to death. Gamil woke out, unharmed.
The Monaco Group were woken up to Rhine screaming. Elro and Purry ran over, Jone with them, having arrived back in Monaco. Rhine was screaming because Bjarne's decapitated corpse was laying outside the wall. Axle read up a note, stapled to Bjarne's forehead, which told them that The Golden Horde demanded their unconditional surrender. Purry, Elro, Axle and Mithun went around Monaco to try and figure out who had killed Bjarne. They ended up agreeing that a Golden Horde member snuck inside the walls to kill him. Purry went to the infirmary to check up on Leylah, only to find her overdosed on pills, after being alone in the infirmary for two days. Axle help her bury Leylah. Jone tried to contact Liechtenstein, but was met by hostile responses. She then went fishing. Elro and Mithun went to the solar plant, where they ran into two Golden Horde members, who demanded them to raise their hands. When they didn't, they were both shot down and left to bleed out on the ground. Raul and Doug were still in the forest, looking for Trick. They came across a cabin, finding the corpse of one of the two hunters that got lost yesterday. The hunter had been injured by a boar, and likely bled to death overnight. They then followed a gravel path, finding the last of the hunters, who directed them to a lake, where he got separated from Trick. They found a living boar by a dead boar - the boar that Trick had put down. Raul shot the boar, then told Doug that him and the hunter would head back. Doug did not want to leave, refusing to leave Trick on her own. He stayed behind in the forest, as Raul and the hunter went back to Monaco, where they butchered the boar. 82 people in Monaco were not fed, and of those 13 died. One civilian committed suicide during the day.

In Liechtenstein, Rita wanted to leave, not trusting the people of Liechtenstein. Most of the other agreed with her. Dakota went to the prison to speak to Marie, and told her that he would try and get her out of the prison. One of the scouts from the Scout's HQ appeared at the prison, and told Marie that Alois had ordered him to kill her. Before he could carry out the order, Dakota shot him in the head. The guard outside, having expected a gunshot from Marie's execution, was not suspicious when Dakota left the prison. Dakota went back to the hotel. Meanwhile, Nicolai and Wes had been talking to Alois. Nicolai questioned him, and Alois assured him that Dan was safe and that he knew what he was doing. He also made it clear that Liechtenstein was a very safe place to be. In the middle of the talk, Alois spoke in his walkie-talkie, talking in German. This was later proven to be to inform the guards to keep an eye on Nicolai. Wes offered Alois to improve Liechtenstein's defences, but Alois' dislike for Wes made him refuse the offer. Wes gathered the materials needed to make a bomb, chatting to a girl at the food distribution center. The girl told him that Liechtenstein was very safe, and that the guard would make it impossible for anyone to enter. Nicolai and Wes then met up with Ali, Rita and Dakota at the hotel. Dakota briefed them of the situation, then returned to the hotel with Rita. Rita went to distract the two nearby guards, standing on a bridge blockade by the prison. Dakota meanwhile killed the guard by the prison, stabbing him in the neck. This caught the attention of the two guards on the wall, but Rita was quick and killed one of them, stabbing him. The other guard failed to shoot her in time too, but Rita also failed to kill him. The two struggled for a bit, then fell off the blockade, down on the other side. Presumably both Rita and the guard died. Dakota took Marie with him and ran to the castle, where the cars and their bus were parked. The keys were at the hotel though. To get them, Wes faked fainted and Nicolai brought the hotel clerk upstairs to help him. Nicolai then knocked out the clerk and tied him up, then took every single car key, along with the bus key, that the hotel had. While Nicolai did all of this, Wes made a bomb from the materials he gathered earlier. Wes then placed the bomb in a backpack, and used the clerk's watch to create a timer, setting it to five minutes. Nobody was suspicious about him, and he made it to the castle and the cars. Nicolai and Ali followed, but the guards had earlier been warned about Nicolai, and a guard stopped him outside Alois' house. Another guard was inside the house. The guard informed Nicolai that Alois wanted to speak to him, and grabbed Nicolai's arm. Ali came to the rescue, stabbing the guard, allowing Nicolai to run off. Ali ran too, but the guard inside Alois' house came outside and shot her in the back. She crawled past a corner, but couldn't escape. She threw a knife at the guard, hitting the guard in the leg. The guard then shot her several times in the stomach, after being told through the walkie to execute her. The bomb went off at the marketplace, and the guard put her down. Wes, Nicolai, Dakota, Rita and Kelsy drove off on the bus, all having arrived at it by the time of the explosion. They then drove off. Dakota taunted Alois through the walkie, informing him that they were responsible for the explosion. Alois responded, proving him to be still alive. They drove through Austria and Italy, then driving through the night to reach Monaco.
Jone, Anaïs, Roger and Collazo arrived back in Monaco.

The Settler Group woke up to Gamil and Rahman arguing loudly over what to do: stay in Misratah and deal with daily attacks from predator animals. Or leave to find a safer place to live. Magnus, Nathaniel, Luke, Diama and Judit joined them outside, along with everyone else in Misratah. They argued for a while, and eventually decided to stay. Gamil and twenty others went to a nearby ferry though, to leave. Luke went to them to convince them to stay, but failed. He then told Gamil to at least bring some supplies, which he agreed to. Luke, Gamil and two civilians went back towards Misratah to gather that. In Misratah, however, they were faced with a caracal attack. Wolves were heard outside the walls too, a distance away. The caracals attacked some civilians, then went for Nathaniel, Diama and Rahman, who were still standing outside in the settlement's open area. The fourth caracal went inside the building were Judit and Magnus were. The caracal on Diama bit off a piece of his arm, causing Diama to pass out and eventually get killed by the cat. Rahman also failed to keep the cat off him, dying too. Nathaniel managed to get the caracal off him, but this caused the cat to attack him a second time, leaving large wounds on his chest. He did managed to crawl closer to his gun, dropped when the cat first jumped on him. This allowed him to kill the cat, then run off to meet up with Luke, Gamil and the two civilians, still headed back towards Misratah. Gamil and the two civilians began treating Nathaniel. Meanwhile, the residents of Misratah were running towards the ferry or inside Misratah. Magnus and Judit were also in trouble, with both having been knocked to the ground by the caracal. The cat stayed on Magnus, who did manage to get a shot in before being tackled to the floor. The cat dug its claws into him, but Judit got on her feet and grabbed the rifle that Magnus had dropped. A single shot killed the injured caracal. The other two caracals jumped inside the building too though, startling Judit and making her drop the rifle. Magnus and Judit opened the door and ran outside, but the two cats were way faster, tackling them both again. Magnus knocked the cat off him, and ran off. The two caracals were now both attacking Judit, who were screaming for Magnus to turn back to help her. Magnus did not do that, running off. He met up with Luke, Gamil and Nathaniel and they all boarded the ferry with 43 civilians. They then headed towards the Cyclades. Around thirty civilians were either killed or otherwise lost during the attack.
In The Monaco Group, Wes, Nicolai, Dakota and Marie returned to Monaco. Here they were greeted by their families and the people of Monaco. Dakota received a message on the walkie-talkie, from Alois. Alois informed him that he was coming to bomb Monaco. They could hear the helicopter in the distance. With Jone having sent Roger and Collazo to learn to sail yesterday, they were far out at sea, meaning that the boats were not in reach. Nicolai and Wes both tried to convince their wives to leave, but quickly realised that they had no way of doing so. Wes also tried to convince Anaïs that leaving was the best move, but Anaïs pointed out that Wes had been elected member of the New Council to protect the citizens of Monaco, not abandon them. Raul informed Anaïs that he would definitely be staying, and Anaïs had a group of elderly and weak people go with Raul. Anaïs guides the guards and survivors to safety, before the helicopter got too close. Meanwhile, Nicolai, Dakota, Purry and Wes all made it down the basement of the Larvotto apartment building with their families. Down here, Dakota contacted Alois again, telling him to not kill any more people. Alois informed him that among the people killed in the bomb attack on Liechtenstein yesterday were Alois' two daughters. Jone climbed the Odeon Tower, which hadn't been visited in years. She climbed, eventually getting halfway. Meanwhile, at the gate, the helicopter, led by Alois, flew over and blew up a guard on the gate. Raul, Sylvia, Anaïs and the group of elderly ran to the castle, though it was also attacked by Alois. They changed direction to the casino. Here, an elderly couple failed to catch up with the rest, as the helicopter approached the casino. Raul decided to risk his own life to save these two people, running out and getting them to safety. The casino was bombed and collapsed into debris. Wes had been trying to make a rope bomb to take down the helicopter, while Jone had moved further up the tower and eventually attempted to shoot Alois in the helicopter. It took a few shots, but she eventually hit him, causing him to land by the armory. Raul and two guards inside the armory were the first outside at Alois. Alois was screaming and crying, blaming the Monegasque for his daughters dying. Dakota, Nicolai and Bethy caught up, and Alois pointed his gun at Dakota, ready to kill him. When Dakota mentioned his daughters, Alois dropped his gun and broke down. By order of Raul, Alois was shot. Purry and Axle then ran to rescue the people at the casino, with nearly everyone else ending up joining them. Sylvia, Anaïs and the people inside that had survived the collapsing building made it out. Purry went inside to rescue a man with a broken leg. Axle did not know how to fix the man's leg, and the man was killed in mercy. Nicolai, Wes and Dakota all argued with their families about leaving Monaco, but all three ended up deciding to stay. Anaïs had dismantled all solar panels in Monaco, in order to use them on one of the boats. 69 people were killed in the attack. An additional 55 people starved, not having been fed yesterday.
The Settler Group explored a few islands of the Cyclades, but quickly realises that they were dead, no sign of life and barely any resources. They did find enough resources to feed everyone on the ferry though. Gamil blamed himself for them ending up in this hopeless situation, but Nathaniel and Luke tried to convince him to keep going. They argued what to do, ending up deciding to go to another settlement. They quickly ruled out Monaco and Liechtenstein, and ended up aiming for Rakaw. They went past Istanbul, where they heard some loud music, but decided not to investigate. They then sailed on. 1 civilian died from his injuries. Nathaniel and Magnus did not have their injuries treated, as they had no medical supplies.
The Monaco Group had Anaïs finish working on the fishing boat. She needed one last part, which Joakim had drawn in his notebook. Along with Purry, Nicolai, Raul and Axle, Anaïs went to the solar plant to gather this part. At the solar plant, Nicolai went up the maintenance building and heard voices coming from inside. He told everyone, but Purry, to go back and out of the way, as he approached the building. As he did, the door opened and a big guy came out. Right in front of the door, he began to pee, still talking to the people inside the building. Nicolai went over and stabbed him in the neck, which made the other three people inside - two men and a woman - get their guns and run outside to fight. The first man was easily shot by Nicolai, while Anaïs and Purry each shot one too. The woman was only shot in the stomach and survived. Purry ran over to put pressure on her wound, asking her if she knew where Trick was and why they wouldn't leave Monaco alone. The woman just laughed and told them that The Golden Horde was way more powerful than them and that attacking Monaco would be no challenge at all. Purry let go of her wound, causing the woman to bleed out, while she still taunted Purry. Axle comforted Purry, who was breaking down. Anaïs got the part, and also took some extra ones just to be sure, and they all returned to Monaco. In Monaco, Wes had created remote-controlled landmines and scattered them around outside the walls. He taught the guards how to use them. He also asked Roger and Collazo to teach him how to sail, but both were very new to sailing themselves so couldn't help. Jone spent the day fishing with her family. Dakota, as a former zookeeper, taught Rhine how to care for the animals and how to properly milk the cows and goats. He also spoke to Bethy, who made it clear that she was in no way a fighter. He then went to Marie, telling her that if everything went south, she should head to Rakaw. He explored the sewers, before going to the solar plant and then back to Monaco again. When Nicolai, Purry, Raul, Anaïs and Axle returned from the solar plant, Nicolai went to Matilda. He explained what had happened at the solar plant, and told her how scared he was of The Golden Horde. When Matilda asked what to do, Nicolai responded that they should stay and fight, but that she should run if they ever came in danger. Purry went to the town's cathedral, where she had the priest say a prayer for Trick. She then went to Axle for some more comfort. Raul sought out Sylvia, who he believed to be dead after yesterday's attack. 112 people in Monaco were not fed, of these 59 starved.
The Settler Group arrived at the mouth of the river Dnepr, finding the path blocked by a collapsed bridge. They left the ferry behind and split into two. One group would go ahead and scout for any kind of vehicle, preferably a boat. This group consisted of Luke, Sa'ida and ten other healthy people. The other group consisted of the weak, old and slow people. They would also walk, but take their time to make sure everyone was with them. This group consisted of Nathaniel, Magnus, Gamil and the reminding survivors. Luke's group arrived at a school, where Sa'ida pointed out that a garage at the school was locked. Inside was a small sailboat. They also explored the school, but found it completely empty, even furniture having been taken. They sent two people back towards Nathaniel's group with the sailboat. They continued, following Dnepr, but soon realising that there were no settlement along the river. They turned back and followed a smaller river, going off Dnepr. Here, they found a town and a sign saying 'boats this way' and an arrow pointing towards the town's main hall. Luke and the others in his group instead explored a post office, but the door was closed behind them. A man from Luke's group went up to open the door. He went outside and was immediately stabbed in the neck. Two armed men appeared, telling them that they wanted food. Luke, being the only one in the group with a weapon, agreed and sent two people forward with their food. The two men were stabbed, and Sa'ida pointed out that the food they wanted was likely them - living people. Luke shot the two men, but in the process everyone but him and Sa'ida were shot as well. The two of them ran away, leaving the town and moving further up the river to find a boat. They found one, a big sailboat, and went back towards the others. Nathaniel's group had found a hotel, where they stopped when an elderly lady had to take a break. Nathaniel and a few others explored the hotel, but all the rooms were locked and the keys were not numbered and just placed in a big pile on the counter, causing it to take a very long time to look through just two rooms. Those two rooms was all they got through before Gamil informed that they could continue. Two elderly people stayed behind to explore the hotel. The two men on the sailboat met up with Nathaniel's group, and Nathaniel sent them back to get the people at the hotel. They then continued moving, and eventually moved away from the river and towards a small residential area. Nathaniel and Gamil entered a building, finding that all furniture had been looted. When they came out, they saw five armed bandits threatening the group of around thirty people. Nathaniel agreed to their demands of following them back to the river. By the river, the four people that were in the sailboat were laying on the shore, dead. The bandits told them to get over there and turn around, but Nathaniel refused to do that. He gave his gun to Magnus, who shot the closest bandit. Everyone then started running towards the nearby woods. Gamil, having the only other gun in the group, also kept shooting at everyone. Nathaniel ran away, but was shot in the shoulder. Gamil caught up and helped him to his feet, and the two continued running. Meanwhile, the group of weak, injured and elderly people were shot, and almost everyone killed. This included the wounded Magnus, who was shooting at the bandits, killing a few of them before he was shot himself. Nathaniel, badly injured, was being supported by Gamil. They hid in a nearby bush, but was spotted by two bandits. Gamil managed to shoot one, but the other approached them. Nathaniel suggested that Gamil should throw his gun at him and charge him, which Gamil did. This did not end well for Gamil, who did manage to tackle the bandit, but was way weaker than him. The bandit got his gun up to Gamil's temple, shooting him in the head. The bandit then got back up and followed Nathaniel to the river, where Luke and Sa'ida was helping the few people that had survived the attack. These people were swimming towards the sailboat, and Nathaniel attempted the same. The bandit easily killed the badly injured Nathaniel though, shooting him several times, then leaving the corpse in the river. Luke and Sa'ida managed to rescue four people before they sailed off, towards Chernobyl.
The Monaco Group woke up to Derek from the Golden Horde shouting at them through a megaphone. They all ran to the walls, where they could see Derek on top of a truck outside. He was parked just a few meters from the tripwire-bombs and landmines that Wes had set up. He informed them that The Golden Horde intended to attack them, but would give them one last chance to surrender. As a warning, he brought out a tied-up Anaïs, who had been kidnapped by the Golden Horde. Derek shot her in the head, then gave then 24 hours to surrender. Him and the other horde members drove away. Nicolai and Wes went to their families, discussing what to do in case they had to escape. Nicolai told Matilda to escape via boat, so Matilda ran to the harbour to prepare that. At the harbour, Jone and Collazo were discussing a potential attack on the Golden Horde. Jone has earlier gotten confirmation from Roger that an attack carried out in the helicopter could be possible. Collazo did not like that idea though, and it never happened. Jone and Collazo met up with Matilda at the harbour, where they saw two boats in the horizon - The Golden Horde. Jone then went around preparing ways to defend Monaco. Nicolai meanwhile had Wes teach him how to handle explosives. Wes had prepared the medieval cannons from the castle, created gunpowder and some makeshift cannonballs as well. Dakota went to speak to Rhine again, to convince her to fight for Monaco. She refused, again, not comfortable with killing anyone. Dakota then went to Marie, informing her that he would leave to talk to the Golden Horde. The two argued for a bit, and Dakota ended up staying. Raul went around Monaco and prepared the guards and defences. He had some guards use the Odeon Tower and other high towers to snipe the Golden Horde from there if they were to attack. Purry went to speak to Bethy, who was convinced that Monaco would be just fine and that the Golden Horde was no threat at all. Purry also searched Trick's apartment, and found at that she was Doug's daughter. Purry then went to Axle, at the infirmary.
Only Luke, Sa'ida and four other survivors were left in The Settler Group. They sailed along the river after passing Chernobyl, not believing anything useful to be there. They saw some overgrown vehicles and a shipwreck, but other than that, they saw nothing but forests. Eventually, they passed a small farming community and found a single rifle and a bit of food and water in the buildings. They also noticed that there were a lot of animal droppings and carcasses. This was from a family of wolves, which they ran into but managed to avoid. They moved towards Mazir, not stopping along the way. At Mazir, another collapsed bridge was in their way. They left the boat and continued on foot. They found a small electrical car powered with solar panels. One of the four survivors, Yuri, sat behind the wheel and drove the car as they moved towards Minsk. The car was small and not suited for six people, so they were very crammed in the back. They drove the rest of the day, and during the night too. Eventually, they drove though a forest, but in the pitch black darkness, Yuri couldn't see where he was driving. He crashed the car and everyone inside went unconscious. Luke woke up later that night, seeing a flame on the hood of the car. He also saw Yuri's chest impaled by a thick tree branch. He crawled out, helped Sa'ida and passed out right after the car blew up, killing the other three survivors.
TBA
"Are you okay, my friend?" Was the first thing Luke heard when he woke up again. He felt intense pains all over his body. The car crash, the wolf bite, the bear attack. He was not in good shape. After sleeping for several days, nobody in Rakaw believed he would survive. But he did. And in Rakaw, he became well liked. His stories were thrilling, sad, entertaining. It was everything the people in Rakaw needed. Someone to tell these exciting stories. The life in Rakaw was cold and grey. They were safe, had plenty of food and water, but the harsh weather and hostile animals made it impossible for them to enjoy themselves. Luke gave the city some morale. Some good stories.
And he also gave them valuable information. He told them of Liechtenstein and Monaco. The people of Rakaw made contact to Monaco, and asked for a delegate to come visit them.
That delegate was Dakota. Him and Marie travelled north, to make contact with Rakaw. On their way, they passed through Liechtenstein, wanting to see if it was still standing. It was not. They went through it. Corpses were everywhere. Starvation took them, after the marketplace was blown up and their providers killed. In the lab, they found a cut-up corpse. Body parts everywhere. It was too far gone, so no way of knowing it was Dan. Dakota and Marie arrived at Rakaw. They were given horses and a big wagon there, and asked to establish a trading caravan. That's how Dakota and Marie spent the rest of their lives. Going from Monaco to Rakaw, trading.
But for that to work, Monaco needed supplies to trade with. Rhine secured animal produce, gaining more and more experience with the animals over the years. Late in her life, she also led a search for Doug and Trick's remains, but with no success. The two were never found.
Another thing that Monaco could contribiute with was fish, something they did not have in Rakaw. Jone, devestated by the loss of her family, started spending every waking hour at sea, alone.
Someone who was not alone was Wesley. With the Golden Horde taken care of, his knowledge of explosions was no longer needed, so he instead focused on producing ammunition - another good to trade with Rakaw. And while spending his days doing this, he came home in the evening to a loving wife and a daughter that he got to watch grow up, get her own interests and dreams, get a boyfriend, a husband, kids. Wesley lived a good life, all the way to the end.
Nicolai, on the other hand, ended up in despair. Watching his adoptive children dying in front of him scarred him for life. He still had Matilda, and the two had great times, and overall a good life. But the PTSD of watching two little children, that he cared about, getting murdered, he never recovered fully from that. Nicolai and Matilda never had any other children.
The same could not be said about Purry. She finally got pregant and started up a family with Axle. Two children. Her and Axle ran the infirmary for years, before it was decided that it should be expanded until a full building. Purry and Axle were in charge of the new hospital, teaching people first aid and how to help others in need.
The decision to create the hospital was made by Raul. One year after the Golden Horde attack, he held a public election. He ran against one other candidate, but won a landslide victory. Every five years, another election was held, and every single time, Raul was elected. Him and his wife held control of Monaco for years to come. Together with the remaining people of Monaco, they rebuilt it.
And with a working trade route with Rakaw, settlements were set up along the way. As the years went by, those grew and more of them appeared.
Society was being rebuilt.